Order Phone and Fax Service
   Connect Anywhere Keeps You In Touch, Everywhere
   Mobilize your business phone service with Connect Anywhere
   Your all-inclusive virtual phone system solution
   No hardware required
How it works:
Since Connect Anywhere uses your existing phone line, you don't have to worry about any additional hardware installation. This is a hosted - PBX solution, which means the service runs at our carrier-grade facility and therefore doesn't take up your office space. Hosted PBX allows your extensions and phone numbers to be located anywhere, so geographical limitations no longer apply. Use local or toll-free numbers from any area in the country for the same low price, or have your current number transferred to our system.

Your connection, your choice: When a caller calls your Connect Anywhere local or toll-free number, choose to have them greeted by an auto-attendant or have the caller connected right away, without the need to enter any extensions or dialing options. If you have decided to implement the call-screening feature, the system asks for the caller's name. Otherwise, your Connect Anywhere virtual phone system simply puts the caller right through after any necessary extensions or dialing options are chosen. The caller listens to your choice of on-hold options, music or custom company message, while the system connects the caller to the correct recipient.
What it costs:
Only $14.95 (400 minutes) per month or $24.95 (1,000 minutes) per month. Both pricing plans have an overage rate of 4.9 cents per minute.
What are the benefits of Connect Anywhere
• Auto-attendant with 25 extensions:
• Voicemail-to-email translations:
• Call Recording:
• After-hours call handling for professional appeal:
• On-hold options for professional appeal:
• Call transfer and three-way calling:
• Follow-me flexibility:
• Electronic fax:
• Email notification and web administration:
• Flexible listening, viewing and controlling:
• Advanced call routing and reporting with our optional inbound call center package:
What are the features I get with Connect Anywhere?
• Toll-free or local number
• Dedicated toll-free number for faxing
• Dial-by-name directory
• Play voicemails online or via email
• Voicemail messages translated to text
• View faxes online or via email
• View and print call reports
• Caller ID on all calls
• Web administration panel
• Auto-attendant with 25 extensions
• Call screening
• Call recording
• Advanced call center features
SET UP INSTRUCTIONS
Follow-Me set up - set calls to go to your cell or land-line
Step #1 - Click "Add New Follow-Me"
Step #2 - Click edit add phone number you want calls to follow, set the days and times you want to receive calls, I suggest M-F 9-5PM, set time out at 20 seconds and then click update. You can set up to 6 phones, if you use a cell you can set up 4 tries (more or less) incase you are in a dead zone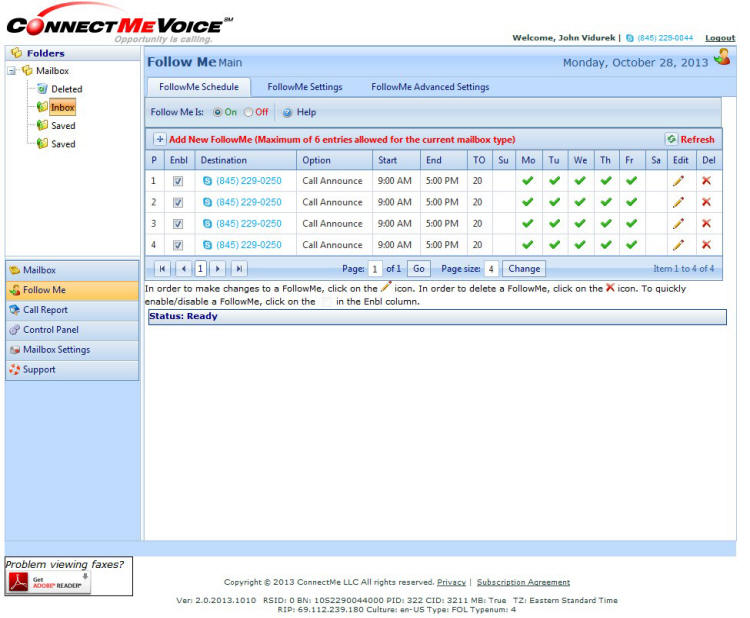 Click on Control panel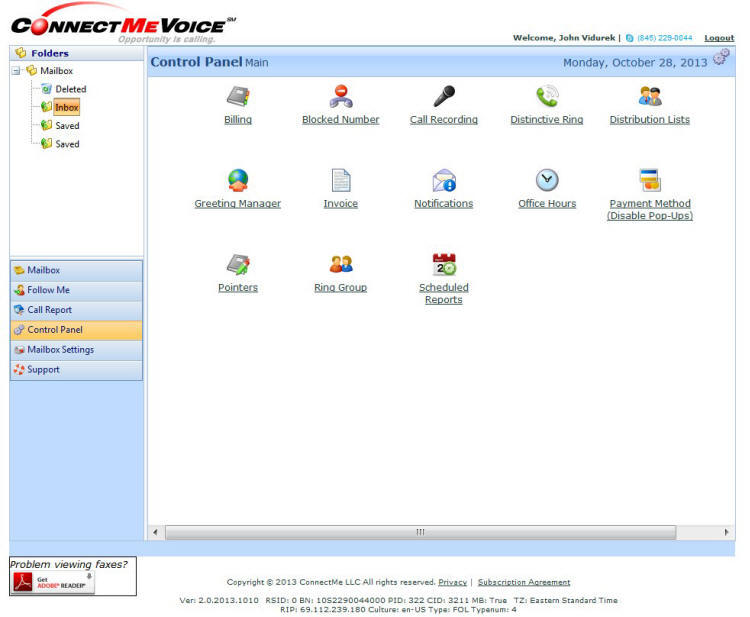 From the Control panel - set up Office Hours - set days and hours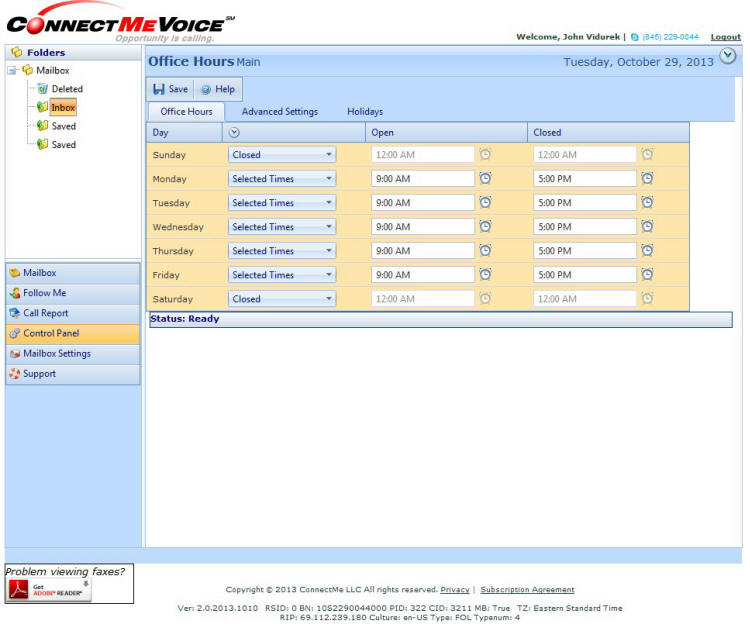 From the Control panel - set up Greeting Manager
Step #1 Click on "Control Panel" then click on "Greeting Manager"
Step #2 Click on drop-down for Greeting Type and select a file to upload one at a time, uploading a MP3 for each (listen to the example messages below)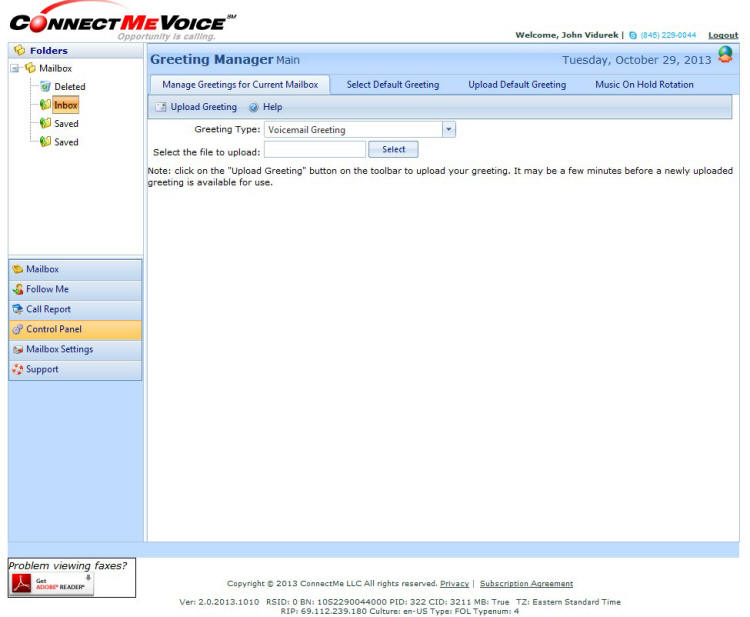 (a) Voicemail Greeting
(b) Personal Follow-Me
(c) Music On Hold
(d) After hours
From the Control panel - set up Call recording (to record all incoming calls)
Click on "all" and then click on "update"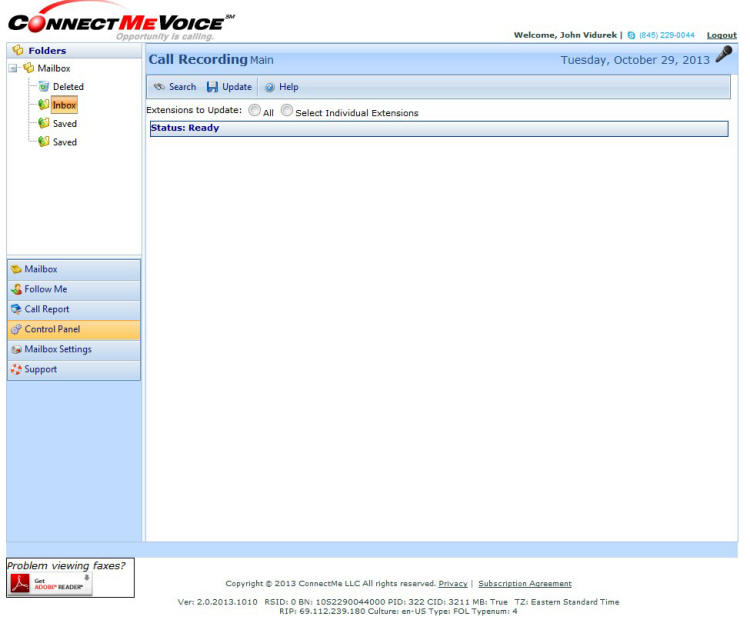 From the Control panel - set up Notifications (this will send all messages, call recordings and faxes as pdf's to the email you insert)
Click on "Edit" type in and save your info and then click on "Enable"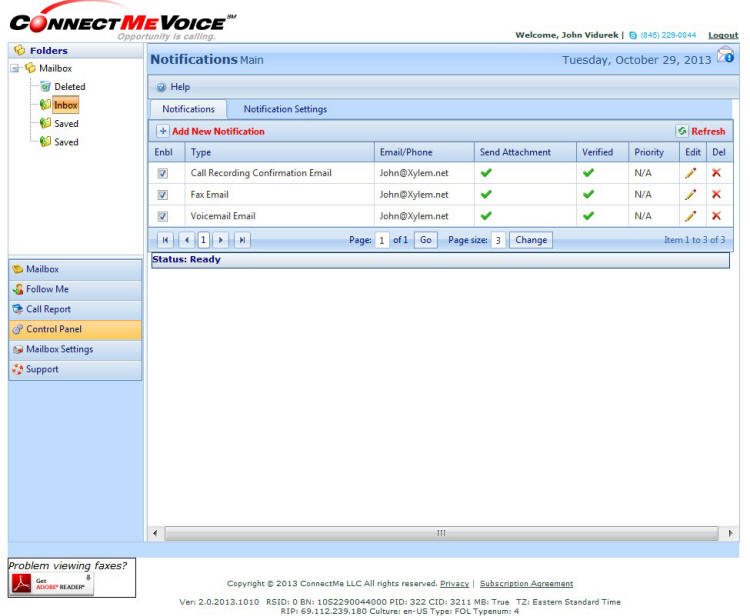 - END OF SET-UP -